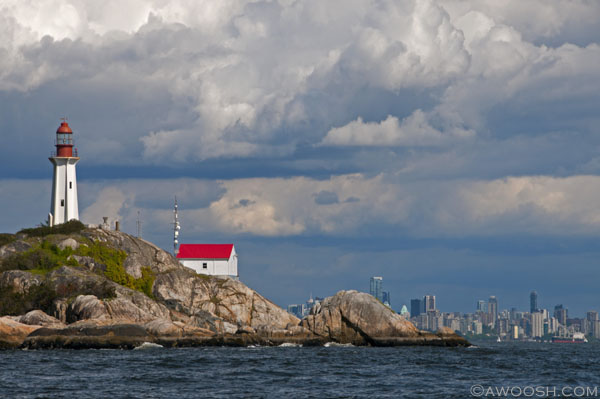 A break today from underwater pictures. Instead, I offer up a Vancouver city scene, taken on the weekend, from a marine perspective.
On Sunday afternoon, the heavy morning clouds started to mound to the east as they opened up in the west. Seeing the possibility for a nice afternoon scoot, we fired up the boat and headed out around the point from Fisherman's Cove, towards the city.
Shooting images from a moving platform (in this case a small boat, in rough seas) is always a bit challenging, but I braced myself as best I could and took a couple of pix as we bounced by. I couldn't resist the beautiful light and the dramatic cloud formations.
The lighthouse is at Point Atkinson, on the north shore of the city of Vancouver. It was originally constructed in 1875, and for any mariner in these waters it is an important navigational beacon. The lighthouse no longer has a keeper, as it was automated in the 1990's.
Point Atkinson is located within a beautiful "natural" park – aptly called Lighthouse Park. The park has trails and paths winding through the forest (some of it old growth) and out to dramatic rock promontories, where people perch to enjoy the gorgeous views.