I thought I'd share this picture, which used to be on the front page of my website.  The blog is now the home page, so this image is buried.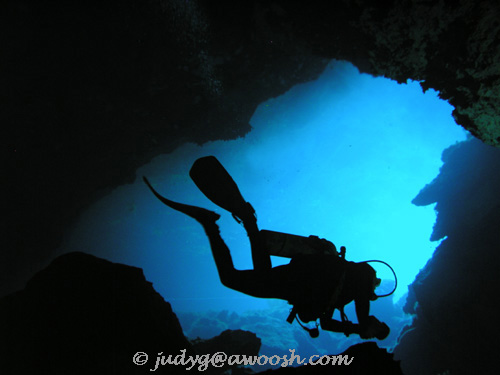 This image was taken on my first dive with an underwater camera.  It was an Oly 4040Z, in a plastic Olympus housing – no strobe (yet), and no wet wide angle lens (yet).
I had been writing for quite a while, and had taken several writing for magazine courses through continuing ed at a local university, as I figured magazine writing might be a good fit for me as an easier entree in to the publishing world.  Through the process, I realized that what I really liked to write about was diving, and dive travel.  It seemed a natural extension to get a camera to try to take underwater pictures to go with the stories, so I bucked up for a little point and shoot and gave it a whirl.  This shot was the fifth out of the box.  Truly, beginner's luck, and there was still a big learning curve ahead, especially with regards to lighting.
This was also my first cavern dive, and it was mind-blowing.  The water was so incredibly clear that it almost felt like diving in air.  The caverns themselves are stunning.  This cavern is in the Yucatan Peninsula of Mexico, and has several beautiful skylights up in to the jungle.  Stalactites and stalagmites line the underwater tunnels that connect them.  It was a fantastic experience, and I ended up making several more dives in various caverns over the next few years.
I wrote quite a bit about the cavern diving experience, and initially shared it on Scubadiving.com's Diver to Diver forum.  Folks said some nice things about it, so I kept on shooting, writing and sharing. If you follow this link, you can read much more about cavern diving in Mexico, and there are links to galleries and slideshows —> Tripping the Dark Fantastic.