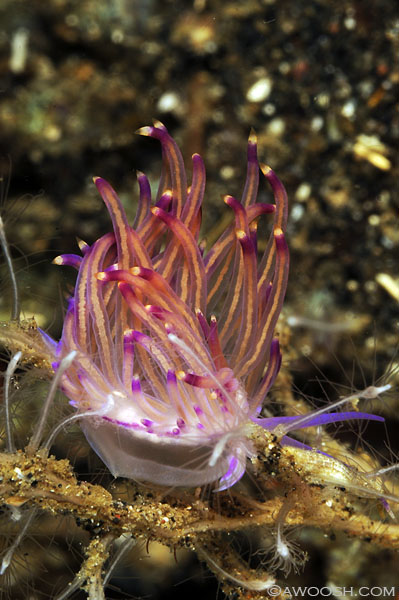 Yesterday, I opened wide and showed some images of a healthy coral reef grown over a recent lava flow.
Today, I am zooming back into something quite teeny – about an inch long. This redline Flabellina Nudibranch (Flabellina rubrolineata) is not terribly uncommon – I have seen quite a few of these nudibranchs (which can have quite a few variations in their coloration), in several locations in Asia.
The key, to me, is to try to capture an image that illustrates both the beautiful coloration and the fluidity of this little slug. Getting one with rhinosphores ("horns") to the camera can be challenging – this little guy/gal (they are hermaphrodites) was chowing on the white hydroids, also in the picture.
This image was taken on a night (muck) dive, in Banda Harbour, not far from where the images from the lava flow from yesterday were also bagged.