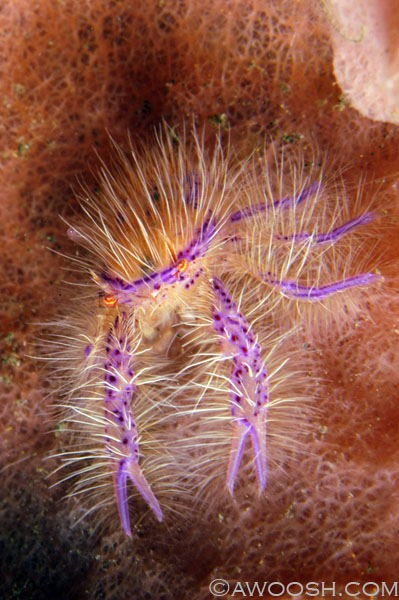 Yesterday, I featured an image of a large barrel sponge. Today I share an image of a Hairy Squat Lobster (Lauriea siagiani).
These things are quite tiny – about 3/4 inch across its carapace. They are pink in colour, and inhabit giant barrel sponges, which are also pink, so spotting them can be tough. Their colours only 'pop' when lit by a strobe or flashlight.
Like many crabs, they don't appear to enjoy being photographed, and want to burrow in the sponge to evade camera-wielding paparazzi, so getting shots like these can be an exercise in frustration.
And why is it hairy, you might ask? Well, apparently these little lobsters use those filaments to snag fly-by tidbits to eat. Then they scrape them off with their claws, put them in their mouth, and consume them. Um, yum?