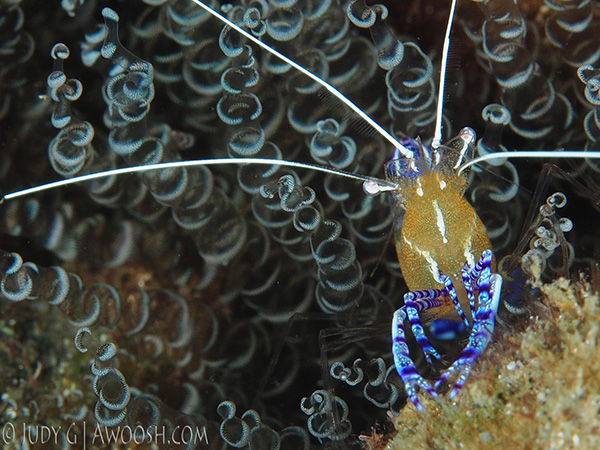 Pederson shrimp on a corkscrew anemone. Photographed in St. Vincent.
St Vincent is known for coughing up some pretty weird and wonderful species, some of which are seen no where else in the Caribbean. I initially thought this might have been something pretty unusual for the Caribbean, but stand corrected by those with better ID ability than me
.
These wee beauties (max about an inch in length) typically live in what is called a commensal relationship with their host anemone. It's considered commensal when one species (in this case the shrimp) benefits from the other (in this case the toxins from the anemone, which coat it and protect it from predation), while the host neither benefits, nor is harmed, by its presence. So it is different than a mutualistic relationship (ie an anemone fish and its host anemone, like I wrote about last week), in which both creatures derive benefits from the other. And that is in turn different than a parasitic relationship, in which one species (ie a copepod) benefits, while its host suffers. There is a photo earlier in my Instagram feed that shows a little red/pink bottom dwelling fish with 'a party hat' on its head. That thing on its head is actually a nasty parasite.
It's a complicated world down there, eh?