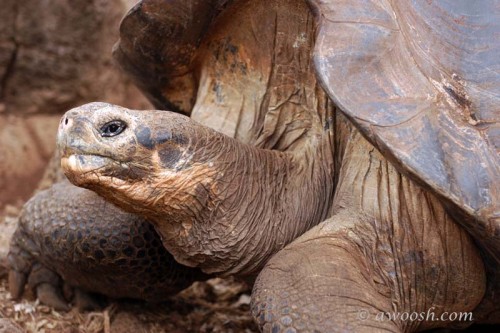 I met George on several occasions on my trips to the Galapagos. Originally from Pinta Island in the archipelago, he was the last of his sub-species. He was relocated to the Darwin Research Station on Santa Cruz island, where he lived out his life well cared for, and visited by thousands of tourists.
Efforts were made to introduce other tortoises with the hope that he would mate and continue the lineage, but alas, he leaves no heirs.
George was thought to be at least hundred years old when he died. Imagine what he saw in his lifetime…
Once upon a time there was a very healthy population of these giant tortoises in the Galapagos Islands. Unfortunately, they were almost eaten into extinction by the sailors who made landfall there. Tortoises were favoured by the ships' cooks. They could be stacked, alive, in the hold, requiring no water or food for a very long time. The cook would lop off one appendage at a time, and make a turtle stew to feed the crew. An ignominious fate for sure.
Through careful conservation the islands have been re-populated with giant tortoises, with the current population levels at a healthy number. Alas, no more Pinta tortoises to add to that number, unless somehow they clone George.